June 29, 2021
Myelin Foundry signed a memorandum of understanding (MoU) with Amrita Vishwa Vidyapeetham, Coimbatore on Wednesday by Dr. Gopichand Katragadda, CEO & Founder, Myelin Foundry and Prof. Chulliyil Parameswaran, Principal Director, Corporate and Industry Relations, Amrita Vishwa Vidyapeetham.
The MoU aims to strengthen the industry academia partnership ecosystem on Machine Learning, Artificial Intelligence and allied fields in India. The MoU is was signed to setup a "Joint Working Group" to coordinate and initiate the Academia Industry Partnership (AIP), with the aim to reduce the gap between industry expectations and Academic offerings, by direct involvement of industry to attain a synergy. Myelin Foundry will support Amrita University, to establish a Machine Learning Operations Lab, to support learning and knowledge creation activities on the artificial intelligence domains and applications.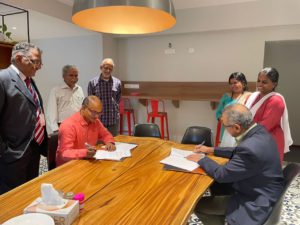 Amrita University will collaborate with Myelin Foundry as an academic partner in developing artificial intelligence and machine learning technology. This MoU will promote entrepreneurship and technology devlopment in AI, which will mutually benefit the deep-tech start-up community in India.
About Myelin Foundry:
Myelin Foundry is a deep tech product start-up transforming human experiences and industry outcomes by building Artificial Intelligence algorithms on video, voice, and sensor data, for edge devices. The Myelin team has expertise in productising deep learning frameworks including CNNs, and GANs, with applications in Media & Entertainment, Health & Wellness, and National Security.
About Amrita Vishwa Vidyapeetham:
Amrita is an established deemed university, headquartered in Coimbatore. Amrita University is an intensive research educational institution and accredited with the grade 'A++' by the National Assessment and Accreditation Council (NAAC). It is committed to impart high quality education to its students and foster advancement of education in different engineering, scientific and management disciplines.