We are always on the look out for people with a passion for AI and the hands-on ability to solve complex problems. If you want to join us, please send your CV to careers@myelinfoundry.com
Culture is about people
We have a diverse team at Myelin, but the soul of the company is young,
and so, we've developed a culture that makes everyone feel comfortable
and provides them with avenues of growth.
"We're a start-up; we're always facing the unexpected; we don't have all the answers, and that's why culture becomes very important to us – to ensure that the team remains motivated, agile, and unafraid to fail fast." – Ganesh Suryanarayanan, CTO.
"Culture is about nurturing: Many people talk about ideas and creativity. But ideas are merely the starting point of creativity; a large chunk of effort -99% perhaps- comes after that. That's where you must nurture the passion, whether it's in individuals or in teams. And to do that, you should have a strong culture where you're willing to change your product, your direction, and reinvent your organisation, the team, yourself – the only way to ensure that you don't remain a one-time innovator." – Gopichand Katragadda, CEO.
How does the culture start to grow?
"I have been an entrepreneur previously, and I have tried to perpetuate a value-driven culture by asking pertinent questions while hiring candidates, like: What kind of people do we want to hire? What is their skill set? How passionate are they?" – Ganesh Suryanarayanan
Hiring right

We think of hiring in several ways; apart from a right cultural fit, and
alignment with our vision, we are also looking for someone who can add
to our culture. Hence, our interview rounds don't just ask about the
person's capabilities but also their qualities. i.e. are they
empathetic? Do they carry a team spirit?
"We don't just look at the resume or pedigree alone, but also pay attention to their problem-solving mindset, their approach, and to how they navigate their careers. Many of our engineers had realigned their careers to join us in our innovative mission. That, for us, is a very encouraging sign to see someone invest in their passion. We might not have the answers to everything, but we have the guts to jump and try." – Ganesh Suryanarayanan
We also have our eye on what culture shouldn't be…
Mid-level manager syndrome: "We have been conscious about avoiding the mid-level manager syndrome where mid-level managers believe they arrived, and so, they stop learning, start bossing around, and get things done through others without understanding the totality of the work because they stopped learning." Gopichand Katragadda, CEO
"We want to integrate continuous learnings in our teams, and a way to do that is to ensure that all leaders are hands-on. No one at Myelin simply monitors projects. As an example, I work directly on the national security vertical—be it writing proposals, reports, or deciding the technical path forward and so on." Gopichand Katragadda, CEO
Ganesh:
We also want to avoid:
Overcomplicated processes: Many companies have set processes that get fossilized which leads to a culture of permission.
Permission Culture: We don't want team members to ask for permission but, encourage them to make their own decisions and return with an output.
Cog In The Wheel Approach: In many companies, engineers feel like they're but a cog in a giant machine; where they do the same thing every day and the gear moves, the work gets done, but the person doesn't understand the big picture. We strive for openness and communication.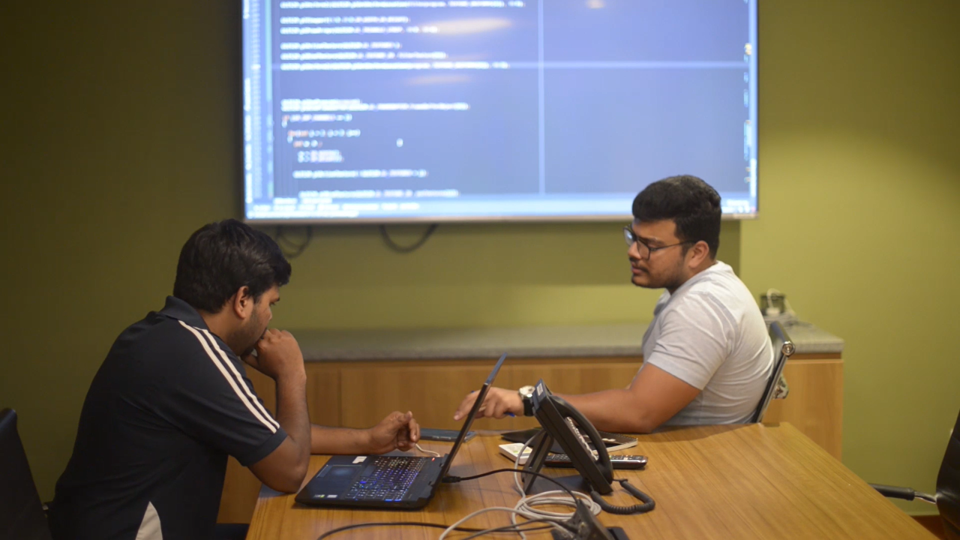 Communication
It's not just important to communicate the big picture to everyone but also map it to individual projects. That is a very important part of culture because every person, especially those younger, should know that they're contributing immensely to the larger goal.
When I graduated from college, I didn't want to join a multi-national company but a place where I could make a direct impact. Myelin Foundry seemed like the perfect option. When I first joined the company, I was quite introverted, but slowly, the team members pushed me to open up and encouraged me to come out of my shell. – Kushagra, Product Engineer, AI & Deep Learning.
Taking feedback seriously
"One of the team members suggested that there should be opportunities for cross-learning. The tech team, for instance, doesn't know much about marketing or marketing strategies so I conducted a brief introductory class for them on some of the modules."
Ganesh: "Feedback is key. Last year, we had split the team into small groups of two to three people, to try multiple things in parallel. We gave people a complete ownership to experiment with the tech. But we got the feedback that they were being spread very thin, and that they were doing too many new things every day, making it a challenge to learn. The feedback we received, helped us build a more structured approach."
Regular One-on-Ones
Ganesh: Even when communication is open, there's a need for regular one-on-ones where the conversation can be informal. I call it 'Coffee with Ganesh' where we don't just talk about work, but about the person, how they are learning, and how they would like to grow. It has helped build strong connections with each individual team members.
Buddy System
The idea of assigning new members to another colleague as a buddy is not only for mentorship but to help give them a head start in a new environment, and to give them ideas on matters even outside of work.
Transparency and approachability of leadership team
Gopi: Transparency is essential to maintain trust in the organisation. Trust is fragile and once it's broken, nothing can be fixed. At Myelin, we try to be completely transparent about work-related matters and processes – even including annual appraisals, who is promoted, how, and never allowing even a flicker of doubt that anything other than merit plays a role.
Many organizations create walls around their senior leadership or management team. We ensure that regardless of what happens – internally or externally, people shouldn't have to deal with uncertainty. The management team gets together once in two weeks to talk about challenges: at the company level or with the market. People must not only know the how of the work but also the why and understand the overall picture. And we try to fill the gap of not knowing by having proactive conversations.
"I was one of the first people to join the team and I remember how surprised I was at how approachable the founders were. I could reach out to them for any support at any time, and that culture continues at Myelin Foundry."
– Divya, Manager, Founder's Office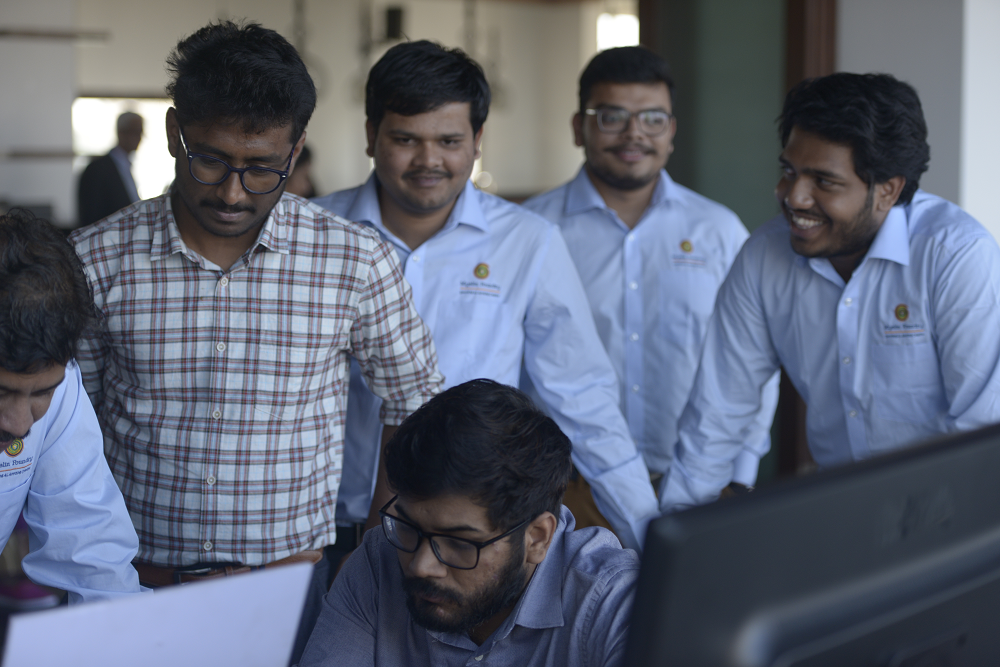 Contributing to people's journeys
Ganesh: When there's an open, friendly environment for people to grow, they can realise their strengths and specific interests. In the past year, many engineers have confided in us about what they like and don't and as a result, we've managed to modify their roles for those closer to their interests.
Gopi: As we're building a culture from ground-up, we shape the team with an involvement mindset. So, say, if a fresh graduate joins us and wants to go for a master's in two years, we then plan their time with the organisation and therefore, their career accordingly.
We get plenty of opportunities to advance our skills. During one of my discussions with Aditi, I expressed interest in media and public relations and since then, I have been roped into working in PR for Myelin as well. – Divya, Manager, Founder's Office
Leaders must play multiple roles
Gopi: "LEADERS should allow people to question them, they should change the decisions based on the inputs they get, and should show that they, too, are part of an environment where ideas will flourish. Then they should work extra hard to pass these qualities on to the next level of leadership and pass it on."
Ganesh: My leadership team and I are constantly pushing the engineering team to achieve things that none of us have done before. And that means we must be particularly empathetic at managing and pushing the right buttons and being supportive when something does not work according to plan, and to try something else. Which means leaders must try many strategies to keep the team driven and motivated. And so, I'm constantly pushing, cajoling, getting angry-and playing various roles from a team manager to an HR professional.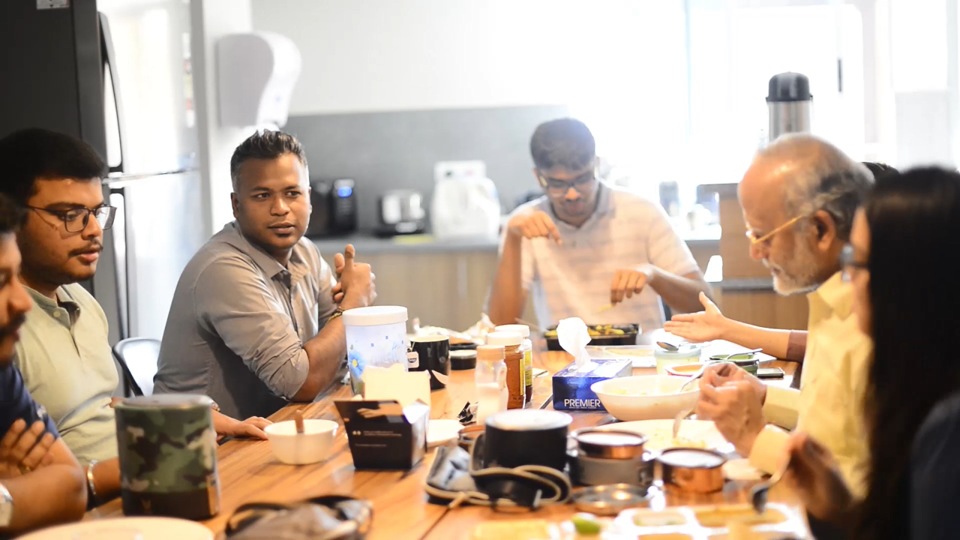 Open doors, no cubicles, and breaking bread together
Minimum hierarchy
Gopi: There are times when the managers would have the most experience and would make the decision, but a minimal hierarchy means that everyone has a say. Every team member has their roles clearly articulated and there are no instances of what a senior member says, becoming set in stone.
Accountability
Gopi: There needs to be clear, well-articulated accountability of tasks – and in a way that the person is conscious of how accountable s/he is. We despise long meetings at Myelin, but we try and conduct regular short meetings that have clear agendas and can be wound up quickly.
But if there are situations when people are not able to perform, we approach it sensitively:
Step 1: Diagnose the problem but proceed with the benefit of doubt: Team members are trying to solve large-sector problems, it's not easy.
Step 2: See if they're getting the right time, the right training, and the right guidance to solve the problem.
Step 3: See if there's a lack of motivation to solve the problem for reasons personal or otherwise. Articulate the reason and address the lacunae that need to be.
Step 4: Identify if the individual needs increased coaching. Coach a skill.
Step 5: If coaching doesn't work and if there are mental blocks, allow the individual to find other opportunities—in the same organisation or outside.
Find Your Ikigai
"The happier the team member, the more productive s/he is. If
you squeeze the life out of the team members in your company, it won't
sustain."

Gopi: I push people to find that intersection of what you're good at, what you're passionate about and what the workplace needs. Today's workforce is not going to be happy without the personal angle and hence ikigai becomes even more important. From a company's standpoint, it's about what the individual can add and what can be monetised. But we try to take this a little further, so in our media and entertainment solution, it's not just about individual entertainment but also about reducing carbon footprint. It's about marrying what can be monetised with value-driven propositions.
Allowing down time
"We don't simply think of work-life balance but life balance because work is part of life."
Ganesh: At a start-up you're always running against the clock. You might end up not having time to even sit back or sit across from your teams. Every Friday, we have scheduled open agenda lunch talks where people discuss their projects, which gives people a chance to sit back, relax and see the bigger picture.
It's why unlike many start-ups we have a health insurance policy in place. We want employees to feel comfortable and be assured that in case their health is affected, we have their back. I learnt this the hard way. In my previous organisation, I had a terrible bout of illness and I was hospitalised for several days. But my team was extremely supportive and made it very easy for me to take time off and return when I had fully recovered.
Pizza parties, birthdays, team lunches, retreats where we do a lot of group activities, bond as a team, and blur the boundaries of team functions are some of the few ways we come together.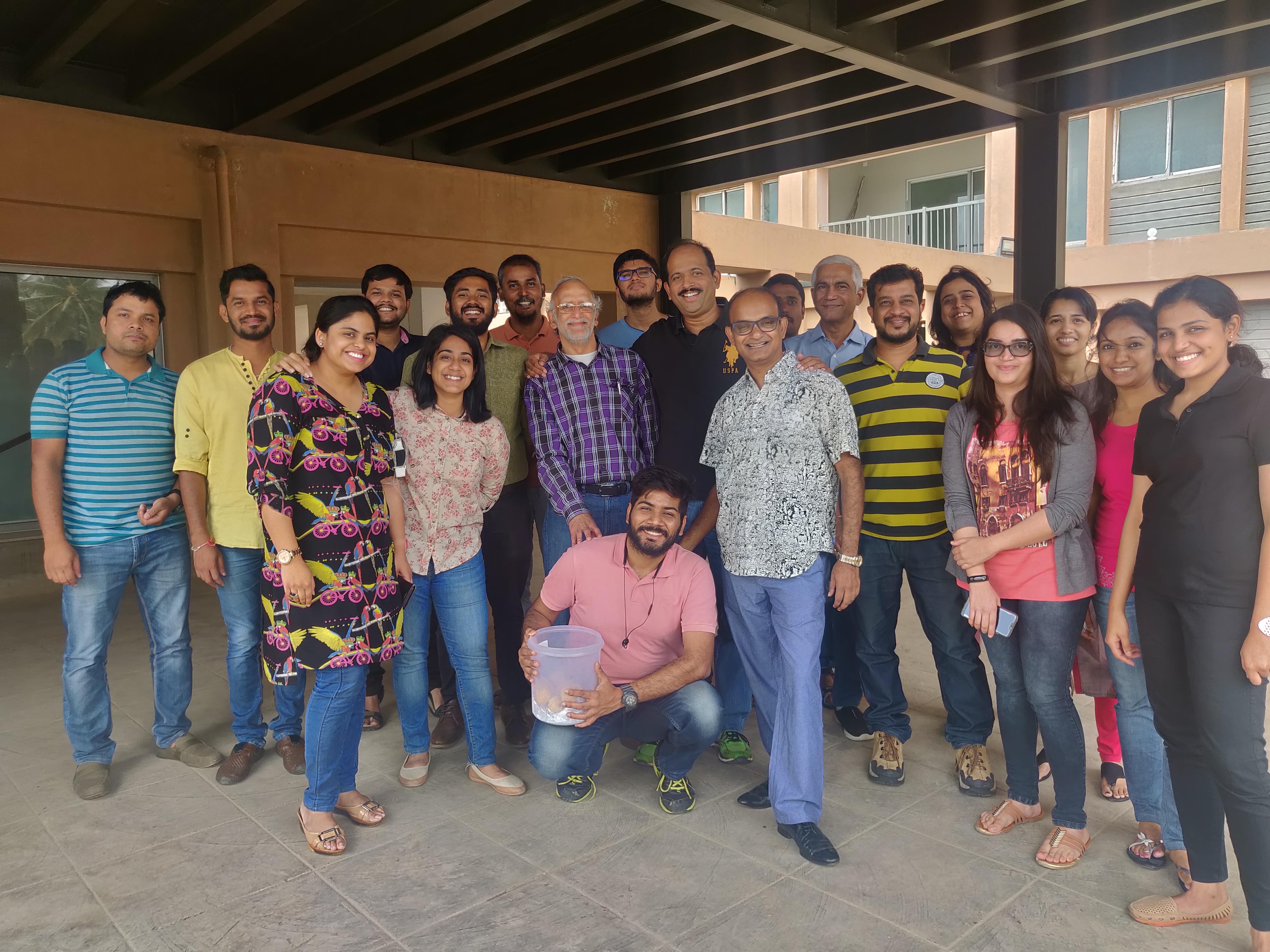 Work timings
We have flexible work hours and no stringent rules on leaves nor working from home. And in case someone must put in extra hours, we make sure that the reasons are clearly articulated and that they're given a compensatory off.
Equal opportunity employer shouldn't merely be a token
"We employ equally because we challenge our own inherent biases."
We conduct all our activities keeping the need for utmost hygiene in mind. Our volunteers are armed with masks and gloves and we make sure that only the healthiest go on field with us. While we try to spend minimal time doors, our interaction with people gives us immense joy, and we return, smiling widely behind our masks.
We make sure that there are no inherent biases, which a lot of start-ups, especially in the tech space, can have. Fortunately, the leadership team has worked in international organisations and has the global exposure of working with a diverse cohort— women leaders, women in tech, STEM, and others. It's the same for people from smaller, tier-2 or 3 cities. I am from a tier-2 city myself and we acknowledge that not everybody may have the same origin story, but we look for potential, the ability to learn, and be humble. We have a healthy representation of women in the company, and going forward, we want to proactively make sure we interview a wide variety of candidates with an open-mind and make sure that reflects in our hiring.
Freedom of expression
Gopi: People spent the most number of hours of their day at the workplace and while some topics could be out of bounds, people should be free to discuss what they like at work and also have the liberty to maintain different opinions.
Ganesh: As the team grows, there's always the chance that stronger personalities may have a clash. We would hence like to encourage a culture where the issue is more important than the person. We also don't want to lose the ethos of agility or fearlessness to do things as the team grows—to maintain openness, with a little bit of structure.
Taking Human Resources Seriously
"Ever since I joined, I have been experiencing Myelin's open, transparent, and inclusive culture first-hand. It's heartening to see how communicative the teams are and how avidly they discuss their shortcomings and challenges with one another. As the teams grow, I am determined to help streamline and introduce uncomplicated but robust processes that accentuate the culture, team Myelin has so lovingly built"
– Sanskrita Patnaik, HR Generalist.
We are looking for people with a passion for AI and the hands-on ability to solve complex problems. If you want to join us, please send your CV to careers@myelinfoundry.com